Student artist's work included in Hogle Zoo exhibition
Friday, Feb. 08, 2019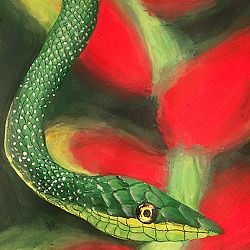 Courtesy photo
+ Enlarge
SALT LAKE CITY — Alex Rose didn't think he'd win. He'd only been painting a couple of months, it was his first competition, and he was up against professional artists. On top of that, when he walked in to drop off his piece for judging, he was intimidated by another submission: a large, papier-mâché dragon head spewing fire.
"It was amazing, and I was like, 'there's no chance I'm getting in,'" said Alex, an eighth-grade student at The Madeleine Choir School. So he was "amazed and incredibly happy" the day his father picked him up after school and said, "Guess what? You won," he said.
Alex's painting of a green vine snake is among the 100 or so pieces on display at Hogle Zoo's 26th annual World of the Wild art exhibition.
The show is limited to Utah artists but is open to all media and all age groups; the youngest was 6 years old, said Jay Weston, the zoo's director of Art & Theming. "It's a fun mix of styles and levels and media and subject. … We think it's a great opportunity for the public to be able to come up and see artwork in comparison to the real animals."
This year, 327 pieces were submitted by about 180 artists, who were each allowed two entries, Weston said. Artists first submitted photos of their work online. A juror selected about 150 pieces to be brought in for a second round of judging; of those, 120 or so pieces were chosen for display, Weston said.
Alex entered two pieces, one of a songbird called a shrike and the other of a green vine snake. The snake, done in acrylic paint, was chosen to be included in the exhibition.
Although he had learned to paint earlier, Alex began taking private lessons this summer, and his portfolio shows how he has improved, he said. The first thing that he painted, "you could barely tell what it was; it was supposed to be a falcon but all the colors blended together," he said.
By comparison, the snake is a brilliant green that contrasts with its red background.
"You could tell that it's in the jungle," he said. "A lot of the paintings that I've made, the backgrounds have just been, like, blurs, and in that one the background is really nice – you can see the big plant in the background."
Originally, he didn't paint scales on the snake because in the photo he used as a model the scales weren't well defined, but "when I finished it, it looked very slimy, so I wanted to add on scales to make it look more like a snake and less like a worm," he said.
The bright colors and "incredible" detail make the painting a really nice piece, said Erin Mattes, an art teacher at The Madeleine Choir School.
The 8th-grade art class of which Alex is a member is very creative, she said, adding that the students "are pushing each other and trying some new things, which is very enjoyable to teach."
That Alex was chosen as an exhibitor in his first competition "is just a great stepping stone" for his future as an artist, whether he decides to pursue it professionally or as a creative outlet, Mattes said.
Like all the pieces in the show, Alex's is for sale, but "I'd rather someone not buy it because I want it, but if they did buy it, I'm not complaining," he said.
The World of the Wild art exhibition at Salt Lake City's Hogle Zoo runs through March 10. The exhibition is free with zoo admission.