Student's hand-sewn costume wins blue ribbon at state fair
Friday, Oct. 12, 2018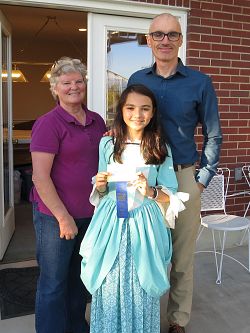 IC photo/Linda Petersen
+ Enlarge
SALT LAKE CITY — Helen Keller accomplished many amazing things in her life, so when Roisin Khor-Brogan, a student at The Madeline Choir School, chose to profile the deaf-blind political activist for her social studies project last year, she wanted to do something special. She decided to make her own costume to wear when she made her presentation depicting Keller.
Roisin, now 11, had been taking sewing lessons from neighbor Jane Davis for about a year and had completed some projects, but the costume was going to be taking things to a whole new level. Still, she was determined. With Davis' help, she worked on the costume for five months, finishing it just before the presentation.
It was somewhat stressful, she admitted, but Davis thought it was a very good project for Roisin.
"It was a big learning project for her with lots of new things," she said. "It was nice she was willing to learn harder things," like working with so many pieces and putting in a zipper, she said.
The classroom presentation on Helen Keller went well, and her teacher and the other students admired Roisin's costume. Afterward, she hung it in her closet, not quite sure what to do with her creation.
Then, this summer Davis suggested Roisin enter the costume in the Utah State Fair. The judges would appreciate the amount of work and the level of skill Roisin had exhibited, Davis thought, and she was right.
When Roisin and her family attended the state fair, they found out she had won a blue ribbon – the highest honor given in her category, Family Life.
At the fair, Roisin went up against entries from youth ages 7 to 16, so it came as a pleasant surprise that she did so well.
Roisin said she loves sewing and looks forward to her classes with Davis every Friday.
"I really like being creative," she said.
It is a talent she seems to have come by naturally – her Irish grandmother, Attracta Brogan, is a great seamstress, she said.
Roisin has made clothing, bags, seasonal items, blankets, hats, scarves, Christmas presents and gifts to take to her family in Malaysia. (Roisin's parents, Shane Brogan and Lillian Khor, are from Ireland and Malaysia, respectively, so she has a rich heritage.) She is currently working on a lined backpack and just completed a cloth pumpkin.
"A lot of things in sewing come quite naturally to Roisin," Davis said. "She understands the process and can think what to do next."
Shane Brogan said Roisin has always loved working with her hands, especially doing intricate things like origami.
When Roisin grows up, she would like to be an architect or an artist but would like to have a side business where she could use her sewing skills, she said.
Roisin is the third child of Brogan and Khor, who are both doctors at the University of Utah, and has spent her entire school career at the Madeline School except for a year when her family lived in Malaysia.
With all the work she put into her costume, she is not sure what she is going to do with it — especially because it will not fit her much longer. Right now, she is considering a ghostly Keller as a Halloween costume possibility.