?The Rosary Handbook' a nice addition to our libraries
Friday, Sep. 28, 2007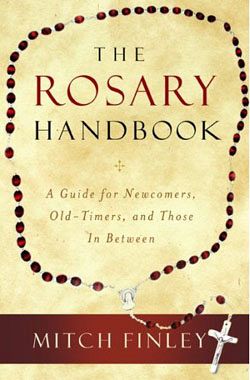 Intermountain Catholic
+ Enlarge
"The Rosary Handbook: A Guide for Newcomers, Old-Timers, and Those in Between," by Mitch Finley, The Word Among Us Press, Ijamsville, Md., softcover, 143 pages.
SALT LAKE CITY — Can you put your hand on your rosary? I mean right now. Whether the rosary you received for your First Holy Communion is in the back of a drawer somewhere or you have several rosaries sitting around the house so you'll have one handy any time you sit down to rest for a minute or two, Mitch Finley has written a book just for you.
His "The Rosary Handbook: A Guide for Newcomers, Old-Timers, and Those In Between" is the perfect refresher for those whose rosaries are calling to them.
Finley begins with words to remember – specifically, why we say the rosary in the first place, then he moves on to the history of the devotion, its recent changes (What? There are more than the Joyful, Sorrowful, and Glorious Mysteries?), and the meaning of each separate mystery. As he goes through the mysteries, he points out the fruits of each one; love of neighbor, purity, obedience, etc.
I have always loved the story of Mary giving the rosary to St. Dominic, so I was a bit saddened to see Finley dispel this myth, but the true history of the devotion is even more moving as it is traced through the centuries.
I found this book a joy to read and full of information I'd either forgotten over the years or wasn't aware of in the first place. It's easy to read – but keep a pencil handy; you'll want to underline.
"The Rosary Handbook" makes a wonderful gift for new Catholics and for those who say the rosary every day. It invites the reader to get to know Jesus and Mary more intimately and it gives a good historical perspective to each prayer and mystery. I give most of my reviewed books away, but this one stays.