Themes of hope and joy at diocesan Advent retreat
Friday, Dec. 08, 2017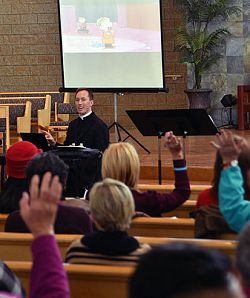 IC photo/Marie Mischel
+ Enlarge
DRAPER — Hope sustains Christians during difficult times, and joy allows them to recognize God's love.
These Advent themes were the focus of Father Joseph Delka, who presented the Dec. 2, 2017 Diocese of Salt Lake City Advent retreat in English, and Bishop Oscar A. Solis, who presided at the bilingual Mass that was celebrated between the English and Spanish sessions of the retreat.
Fr. Christopher Gray, parochial vicar of the Cathedral of the Madeleine, presented the Spanish retreat. Basing his talk on the image of the Lamb of God as it appears in the Book of Revelation, Fr. Gray reminded those at the retreat about Christ's innocence and his love for all people. Christ died "sacrificing and saving us on the holy cross," Fr. Gray said.
Fr. Delka began his retreat by defining hope as the motivation that impels people toward a difficult goal. He then explained the theological virtue of hope, "by which we desire the kingdom of heaven and eternal life as our happiness, placing our trust in Christ's promises and relying not on our own strength, but on the help of the grace of the Holy Spirit," he said.
Because the Christian life is a battle of sorts, hope sustains Catholics during difficult times, he said. "Eternal life with God is not something we grasp or earn by our own power. It is a gift. By ourselves, heaven is impossible to attain. … We can therefore hope in the glory of heaven promised by God to those who love him and do his will. In every circumstance, each one of us should hope, with the grace of God, to persevere 'to the end' and to obtain the joy of heaven, as God's eternal reward for the good works accomplished with the grace of Christ."
From that beginning, Fr. Delka moved into a discussion of the readings for Advent, which provide an understanding of why people need hope and what they should hope for, he said.
The readings for the first week of Advent voice a cry for justice and a desire for fulfillment and healing, and God responds by cautioning his followers to be watchful. Fr. Delka explained that these readings point not to Christmas with its baby in a manger, but to the second coming of Christ.
"The Gospel reading gets us to look at the end game – what our hope is aiming for," he said. That hope is the final judgement, which is about justice, which itself is about right relationship, Fr. Delka said, and if people live in right relationship with God they can hope for eternal life, which is asked for at baptism.
The second and third Sundays of Advent describe how God responds to humanity's cry for help by sending His Son. In preparation for that coming, John the Baptist calls for repentance. Included in that repentance is action – Catholics are called to behave in a such a way as to bring about the Kingdom of God, Fr. Delka said.
He showed a clip from "A Charlie Brown Christmas" in which Linus gives a speech about the true meaning of Christmas by quoting Luke 2:8-14, describing the angel's announcement of Christ's birth to the shepherds.
Fr. Delka noted that as Linus speaks the line "Fear not," he drops his security blanket. In the same way, hope allows Catholics to "drop the blanket" through prayer, action and suffering, and through the Church, Fr. Delka said.
Prayer nurtures hope and faith, he explained. Because Catholics hope, they take action, he said, and while suffering is an integral part of human existence, those who suffer must be offered consolation, he said.
During his homily at the Mass, which he gave in both English and Spanish, Bishop Solis said that people can lose their focus in life because of worldly concerns and so lose their sense of joy. However, "Advent sets our mind to the truth that God in his divine wisdom came into our world, broken and marred by our sin, to bring salvation and peace."
Advent offers the faithful the opportunity to recapture the deep, lasting joy that comes only from God, Bishop Solis said.
"God calls us to be watchful in prayer, to stay alert in living our faith, and remain focused on the presence of Christ in our midst," he said. "If we possess Christ, we are filled with joy."
The bishop ended his homily by saying, "Advent announces the Good News: the Lord is coming – a message of hope and joy for us and for the world. Joy is the manifestation of a humble heart that recognizes the presence of God in us and his love for us. So rejoice, stay awake and get ready! Live the spirit of the season of Advent. Share and proclaim this to the world as missionary disciples of God's love, mercy and joy."