Trappist Brother David McManus laid to rest
Friday, Nov. 08, 2019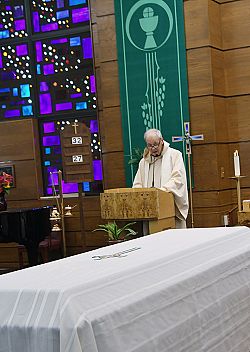 IC photo/Marie Mischel
+ Enlarge
SALT LAKE CITY — Brother David McManus, OCSO, a monk of the former Abbey of Our Lady of the Holy Trinity in Huntsville, passed away at the Veterans Administration Medical Center in Salt Lake City on Oct. 26. He was 84.
The Mass of Christian Burial was celebrated Oct. 31 at St. Joseph Villa in Salt Lake City. Father David Trujillo, the villa's chaplain, presided. Concelebrants included Msgr. Colin F. Bircumshaw, vicar general; Msgr. J. Terrence Fitzgerald, vicar general emeritus; and the Trappist priests who reside at the villa.
Trappist Father David Altman, who lived with Brother David for almost 40 years at the monastery and later at St. Joseph Villa, was the homilist.
Life in the monastery aided Brother David "to be a good man before God, formed by the hand of God to be ever in the hand of God," Fr. Altman said, adding that Brother David "not only did what we are called by the Lord to do, he accomplished the one gift, the one final gift for which we are all waiting: final perseverance. Brother David suffered the decline of his strength, his energy, his body; all this as the sacrifice that he needed to make in order to give up his purified spirit to our God."
Brother David lived out one of Fr. Altman's favorite prayers, he said: "I'll go through this for you, Lord. I offer you my sufferings and sacrifices and my joys, in union with your son Jesus for the accomplishment of your plan of universal salvation."
"Unlike many of the canonized saints with whom we have difficulty relating to their extraordinary gifts and accomplishments, we can identify with the Brother Davids among us because almost all of us are ordinary people, as he was," Fr. Altman said. "Brother David was much like us, a 'behind-the-scenes' person: never published anything, never was outstanding in any way – save for his well-appreciated computer skills. God doesn't evaluate or value us for these externals anyway. The Lord looks at our hearts, our wills, our love and helps us throughout life to conform our wills, our loves, to his."
Brother David was born Sept. 27, 1935, to Walter and Emma Saborkie McManus in southern California. After a four-year commitment in the U.S. Air Force, Brother David worked as an auditor. He entered the monastery in 1980 and was for many years the librarian and cook. He was especially appreciated for his computer skills.
Interment was at the monastery cemetery in Huntsville.