Trunk-or-Treat at St. Rose of Lima Parish
Friday, Nov. 10, 2017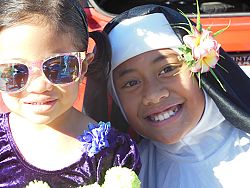 Courtesy photo/Sue Bedard
+ Enlarge
By Kevin Cummings
Special to the Intermountain Catholic
LAYTON — In an event that is becoming an annual tradition, the St. Rose of Lima Council of Catholic Women sponsored a Trunk-or-Treat on Oct. 29. Held in the parish's parking lot, the event attracted approximately 60 costumed children.
Members of the CCW, who dressed in costume themselves, distributed treats from the trunks of their cars. In addition to the treats, children had a chance to participate in carnival games on the church lawn. Carol Gotti provided the games and worked with a team of volunteers to ensure that all of the children had a good time.
The event was about reconnecting Halloween – All Hallows Eve – to the day before All Saints Day, and in that spirit the children were encouraged to dress up as their favorite saint, said CCW member Sue Bedard, who volunteered at the event.
"It's about remembering the dead and the saints and martyrs, and remembering the holy day that brings light into the darkness," Bedard said.
Kevin Cummings is a St. Rose of Lima parishioner.