Two-year parking lot expansion project completed
Friday, Oct. 09, 2020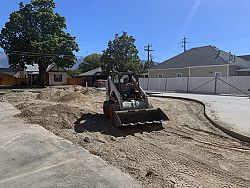 Courtesy photo/Fr. Jose Barrera
+ Enlarge
MIDVALE – At the end of September, St. Therese of the Child Jesus Parish concluded their parking lot expansion project, a two-year process that began with the acquisition of a small parcel of land adjacent to the parish.
"As the parish community grew, the need to have more spaces to park grew too," said Fr. Jose Barrera, the parish administrator.
The project's first phase started two years ago, with the addition of 22 parking spaces. Then, due to a lack of funds, the project was put on hold. However, "Through the generosity of the parishioners, we were able to start with the rest of the project this year," Fr. Barrera said.
Deacon George Reade, the diocesan chancellor, helped the parish acquire and file the permits needed for the project.
"But then, when we had everything ready to go, the pandemic hit us," Fr. Barrera said, and the church was closed for public worship for days, which became weeks, and then months.
Slowly, restrictions have been lifted, and some normalcy has returned to parish life, so Fr. Barrera returned his attention to the parking lot project.
"As parishioners started coming back, we realized that the construction permits had an expiration date," he said.
In order to not have to pay to renew the permits, Fr. Barrera talked to his parish council about starting a new collection to pay for the project. To his surprise, several of the members offered to do the work themselves.
"Many work in the construction area, so thankfully they stepped up and the project moved on," Fr. Barrera said.
For three weekends in September, and also on some evenings when the parishioners had free time, the construction for the parking lot's second phase took place.
"Some parishioners removed dirt. Others mixed the cement and poured it, others painted. ... All in all, it was a community effort," Fr. Barrera said, adding that he is thankful to the community and to all who made this project a reality.
"Their enthusiasm is contagious; they inspire me," he said. "They never give up, despite the challenges – they are willing to give what they can give, no matter if it's economically or their talents, they just do it."
As a result of the project, the parish has 42 new parking spaces. In addition to providing parking, it also brings a sense of security to the parish, which has suffered several vandalism acts.
"This will increase our security, because that lot that once was abandoned is now part of the parish property," Fr. Barrera said.