Upcoming workshop to focus on hospitality
Friday, Aug. 04, 2017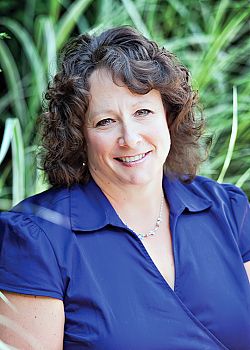 + Enlarge
TOOELE — A speaker from the Catholic Hospitality Training Institute will offer a one-day workshop that is open to the public.
The "Entertaining Angels" seminar, scheduled for Aug. 11 at Saint Marguerite School, is intended to help each member of an organization "be an open door to Jesus Christ," according to the website of CHTI, which is associated with St. Paul Evangelization Ministries. Sheri Wohlfert will be the presenter.
Making a good first impression is important because "Oftentimes the first three minutes a visitor spends with the person of first contact in the parish decides whether they will stay at the parish or leave," the website states.
The school has had previous retreats that have explored the graces of baptism, the theology of altars and how a strategic vision of Catholic schools can be compared to bringing an experience of Bethlehem to a faith community, said Lorena Needham, the principal, who is also a lay ecclesial minister and who led those retreats.
For the hospitality seminar, however, she decided to reach out to CHTI.
"I checked out their reputation with my Catholic friends across the United States and found out that nearly all of them had attended Sheri Wohlfert's presentation and would do so again without hesitation," she said.
Although the school received a grant from the diocese for professional development, "It didn't feel right to use this grant for only our school faculty. That is why we have extended an invitation to people across the parish and diocese to attend this seminar," Needham said.
Because Utah has a diverse population, hospitality in the Diocese of Salt Lake City is important, Needham said.
"Utah is an amazing place – it draws people from across the U.S.A., as well as the world. My personal experiences here lead me to believe that many people feel left out (having left other faith structures, homelands and hometowns) and they are hungry to belong to something special, something holy, something uplifting, something that will guide their spiritual journey/progress, and where they and their families feel safe," said Needham, adding that Catholic parishes and schools are perfect places to create a culture of welcome.
"Open arms, understanding hearts, inviting attitudes, sharing of time, talent and treasures – all can be enriched through practicing hospitality," she said. "In addition, no matter where we go, we are a mixture of cultures, beliefs, hopes, languages and dreams. If we can learn to welcome people of different experiences as if we were experiencing the presence and ideas of Christ."
Those who attend the hospitality presentation can expect to learn as well as to experience all that hospitality involves.
"In Ignatian spirituality, we are to see Christ in others and be Christ to others," Needham said. "In any event, hospitality is basic catechism information for adults for building up our faith community. That first impression, that first welcome we get at the door of the school, parish and church is a lasting impression and can ignite a hunger to be a part of something special."
Because everyone is a minister of hospitality, Needham is extending an invitation to all who wish to attend the presentation.
"We all have a basic human need to belong, which may be enhanced by helping other people to belong," she said. "There's a song by Jaime Cortez and Bob Hurd that says, 'Somos el cuerpo de Cristo – we are the body of Christ.' It is essential that we remember we are all the body of Christ with an important contribution to make the world a better place by building up the Kingdom of Heaven here and now with each person's special talents. We need each other. We need to welcome each other."
WHAT: Hospitality presentation
WHEN: Friday, Aug. 11, 10 a.m. – 4 p.m.
WHERE: St. Marguerite School, 15 S. 7th St., Tooele
COST: $20 p/p
RSVP by Aug. 9 to Lorena Needham at St Marguerite School, 435-882-0081.