Utah Catholic elementary schools putting into practice new program to help teach writing
Friday, Sep. 07, 2018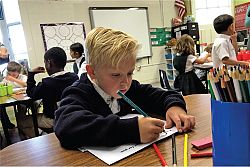 IC file photo
+ Enlarge
SALT LAKE CITY — A new writing curriculum, "Step Up to Writing," is being implemented at Utah Catholic elementary schools.
A committee made up of teachers and administrators from several of the schools met last spring to evaluate the writing development of the diocese's students. In testing second-, fourth- and sixth-grade students through the use of writing prompts, they found that generally the students were experiencing difficulty breaking down the writing process.
"The process we were using was not effective and was not contributing to improvements in writing across the diocese," said Nikki Ward, principal at St. John the Baptist Elementary School, who was the committee chairwoman.
"As an educator, writing is probably one of the most difficult subjects to teach and as a student it's one of the most difficult areas to feel successful in," Ward said.
The committee evaluated several options, including the suggestion by committee member and J.E. Cosgriff Memorial Catholic School Principal Betsy Hunt to look at Step Up.
Step Up to Writing is a sequential writing resource that teaches explicit strategies in three types of writing: informative/explanatory, opinion/argument and narrative. Students use pre-writing, drafting, revising, editing, final copy, proofreading and sharing to organize their thinking and their writing.
Teachers at J.E. Cosgriff have been using Step Up for the past five years, and Hunt is a proponent of the program.
"It has been a strong addition to existing writing strategies and programs for teachers across all grades and subject and subject areas," Hunt said. "Step Up to Writing has been a valuable and common sense teaching resource at Cosgriff School."
Hunt said the early elementary teachers at her school appreciate the use of color coding and scaffolding when introducing outlining and paragraph writing to young writers.
"Teachers are able to differentiate instruction with a variety of optional multisensory approaches designed to engage a cross section of learners," she said.
The upper elementary and middle school teachers at J.E. Cosgriff use the program, which covers most aspects of the language arts curriculum, when teaching note-taking, outlining, academic vocabulary, grammar and essay writing, she said. The program's structure and consistency remind her of her days in Catholic school "under the caring yet precise direction of the Holy Cross Sisters," Hunt said.
In addition to improving writing skills, the committee wanted a program the students could use throughout their school years as well as across the curriculum.
"Our philosophy is that you write in all subjects, not just in English language/arts classes," Ward said.
"We identified writing as one of the areas all of our school could continue to improve in," said Utah Catholic Schools Superintendent Mark Longe. "This program, Step Up, is a good way for us to work together to help all students in writing."
With a standardized language of instruction students who move between the schools won't have to learn different writing convention languages, Longe said.
"From a diocesan perspective, when we initiate something we like to do it at all the schools," Longe said. "That way we're able to train all the teachers tighter and have them meet and share ideas."
In addition to J.E. Cosgriff, Our Lady of Lourdes, Kearns St. Ann and St. Joseph elementary schools have also been using Step Up. This year the program will be implemented at St. Andrew, St Francis Xavier, St. Marguerite, St. Olaf, St. Vincent de Paul and The Madeline Choir School.
St John the Baptist and Blessed Sacrament elementary schools will make the program part of their curriculum next year.