Back to School: As the academic year begins, Utah Catholic Schools continue COVID safety measures
Friday, Aug. 20, 2021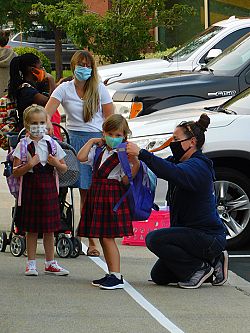 IC photo/Laura Vallejo
Photo 1 of 3
Utah Catholic Schools started their 2021-22 academic year on Aug. 16. In addition to the usual back-to-school concerns, parents and students face new procedures to come with the COVID pandemic.
SALT LAKE CITY — Most Utah Catholic Schools returned to classes this week. Despite earlier hopes that the pandemic would be under control by now, with COVID-19 surging in Utah most students will continue to follow the same safety protocols they did last spring.
The diocese has consulted with the state health department and has incorporated its directives into the schools' total safety plan.
"What's really important is that we continue to have a layered approach in our school safety plans; it's much more than just wearing a mask," Utah Catholic Schools Superintendent Mark Longe said.
For Catholic high schools, where close to 85 percent of students are vaccinated, masks are highly recommended and strongly encouraged but not required by the diocese and school superintendent. Masks are required for unvaccinated employees but almost 100 percent of the faculty and staff of all schools is already vaccinated, Longe said.
High school teachers will decide for themselves whether they wear a mask in the classroom, he said. Administrators may require all students to wear masks when they are attending group events that consist of vaccinated and unvaccinated students and/or adults. Students participating in sports and extracurricular activities will observe precautions such as deep cleaning and hand washing protocols.
At the elementary school level, with students ages 2 to 12 being unable to be vaccinated, masks and all forms of social distancing will be required.
"We do have some schools that have a higher number of middle-school kids that are vaccinated, but they live in a K-8 world, so they are in a mixed environment," Longe said. "At least for now, all of the elementary K-8 principals and the stand-alone middle schools, we're all mandating masks."
The schools also will employ distancing guidelines of at least 3 feet, deep clean frequently and practice handwashing protocols. They are also being encouraged to place students in cohorts if possible. These restrictions are likely to remain in place for at least the first quarter of the academic calendar, Longe said.
"They are similar to last year, but they are nuanced because of the change with the Delta variant [of the COVID virus]," he said.
This year remote learning will not be an option at Utah Catholic Schools. Sports and extracurricular activities including participation in the Catholic Youth Organization League will be allowed; elementary students will wear masks indoors and spectators will be masked. Outdoor mask use will be determined by the individual principal and individual circumstances.
Where feasible, social distancing will be employed in lunchrooms, although schools may make alternative arrangements such as having students eat lunch in their classrooms.
"It's not a one-size-fits-all [response] because our buildings are all a little bit different," Longe said.
In the event of a COVID outbreak, the school and diocese will work with the local health department regarding the proper procedure. Under current guidelines, a student who needs to be quarantined would be provided with make-up work by the school to do at home. If a classroom has to be quarantined, the teacher would likely go to remote instruction for the quarantine period, Longe said.
If more than 30 students at one site have COVID, the school could be shut down by the health department for two weeks to contain the outbreak. Alternatively, students may be able to participate in a test-to-stay program: Students who test positive are required to isolate for 10 days while students who test negative may continue in-person learning.
"Things could change rapidly based on what happens when we're actually in school," Longe said. "It's our hope that the precautions that are in place will allow us to keep the kids in the building and not have school closures."
Longe said Utah Catholic Schools have seen an enrollment increase above pre-COVID levels.
"Because of the state legislation and the fact that there is not a mask mandate in public schools, that did motivate some people to enquire and some register in our system," he said.