Veronica Louise Martinez
Friday, Nov. 25, 2022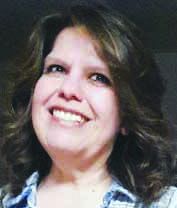 Courtesy photo
+ Enlarge
March 25, 1970 ~ November 12, 2022
Veronica Louise Martinez "NeNe" was born in Salt Lake City on March 25, 1970, to Jake LeRoy and Clara Martinez, and passed peacefully on November 12, 2022, in Ogden.
Married to Floyd, who later passed, they enjoyed camping and fishing with his children, and their nieces and nephews, and they were avid Raiders fans. They loved watching the children grow and welcomed the newest babies with their greatest joy and love. In recent years NeNe found love again and cherished her time with Miguel. They enjoyed hockey, hosting get-togethers with friends and exploring together. We are grateful for Miguel, and the love and care he provided, especially in this last year.
She loved girls' nights and going to concerts and parties with her best friends. She loved music, dancing, laughing and was the life of the party, always making sure everyone had a good time. Her youngest nieces and nephews loved dance parties with NeNe. She was a very proud aunt; she loved her nieces and nephews deeply and wants them all to know how much she loves them.
She loved time spent with family, from game nights and BBQs to holiday traditions including the best Easter egg hunts for the kids and adults and annual fishing competitions celebrated at Thanksgiving. She made every holiday, birthday and celebration special. We love her so much.
Survived by brother, Lee; brother-in-law, Robert; boyfriend, Miguel; nephews, Patrick (Amy), Anthony (Connie), Hector, Kalen and Aiden; nieces, Nicole, Meranda, Ashlee, Alexia, Andrea, Brija and Arya. Preceded in death by husband, Floyd; parents, Jake LeRoy and Clara; sister, Helen; brother, Victor; sister-in-law, Michelle "Ikie"; and brother-in-law Mark.
A funeral Mass was celebrated on November 22, 2022 at St. Patrick Catholic Church in Salt Lake City. A private burial and celebration of life will be held at a later date.
NeNe was passionate in fundraising for charities. In lieu of flowers please consider helping those in need this holiday in her honor.