William Horace (Hod) Sadler
Friday, Jan. 11, 2019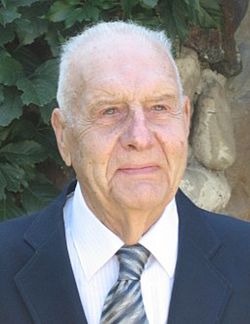 Courtesy photo
+ Enlarge
August 26, 1916 ~ January 1, 2019
Our loving father, grandfather, great-grandfather, great-great-grandfather and friend, Hod Sadler, peacefully passed away at home on January 1, 2019 from a severe case of TMB (too many birthdays). He was 102 years young.
Hod was born in Bridgeport, Alabama on August 26, 1916 to William and Ruth Meeks Sadler. He married Shirley Wardle in Duchesne, Utah on January 17, 1937. They were the parents of 14 children: Bill (Lani), Shirley Grose (Ed), Barbara Porter (Max), Bonnie Bennett (Rollo), Terry (Pam), Gordon (Nancy - deceased, Kathleen), Ron (Dian), Kathy Millar (Mat), Joan Flores (Jim), Stan (Tammie), Marjorie Holland, Morgan (Peggie), Michael (Sally), and Pauline Davies (Brad) with 63 grandchildren, 113 great-grandchildren and 31 great-great grandchildren.
He was preceded in death by his wife Shirley in 1980 after 43 wonderful years; children Bill, Shirley, Terry, Gordon, and Morgan; seven grandchildren and one great-grandchild; brothers Ray, Elmer and John; and sisters Alta Tinker and Dorothy Leivick.
Hod came to Utah when he was 14 years old, during the Great Depression. The Depression shaped his life and actions until the end. He joined the Civil Conservation Corps when he was 17. Throughout the state he helped build fences, power lines, dams, and, as a "Cat Skinner" (bulldozer operator), roads. He then worked for the Bureau of Reclamation before starting work at Kennecott in 1941. He worked as a crane operator and repairman, retiring on January 31, 1977. He started riding his motorcycle after he retired, making trips to Georgia, Texas, New Mexico, and Washington alone on "his bike."
Hod was a devout Catholic and served as a sacristan for many years. A funeral Mass was celebrated at Our Lady of Lourdes Catholic Church in Magna on January 8. Interment was at Mt. Calvary Catholic Cemetery in Salt Lake City. Online condolences may be made at www.peelfuneralhome.com.
In lieu of flowers, please donate to Catholic Relief Services in Hod's name. Many thanks to Dr. John Dietlien and nurse Meggan Newbold for their wonderful and understanding care.