Workshop discusses Dignity of Life issues
Wednesday, Jan. 30, 2019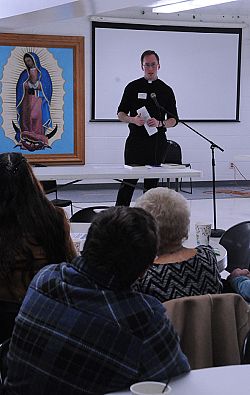 IC photo/Linda Petersen
+ Enlarge
WEST JORDAN — Just days after the New York state legislature approved a new law that would allow abortion up to birth in certain circumstances, on Jan. 26 local Catholics participated in the Respect for the Dignity of Life Day workshop at St. Joseph the Worker Parish. Some were still reeling from the news.
Joseph Pace, who attends St. Catherine of Siena Newman Center, said he came to the workshop after reading about the New York law.
"I felt a prompting to come," he said. "I got really light-headed when I read about that law. I felt very, very sad."
Kevin O'Malley, who teaches confirmation classes at St. Martin de Porres Parish, brought several of his students to the workshop.
"Our personal beliefs are important; it's important for these students to understand that we're the only church that is fully pro-life," he said. "Early on, it's important to grasp these concepts since they are bombarded from the other sides with other messages."
At the workshop, Fr. Joseph Delka, parochial vicar of the Cathedral of the Madeleine, spoke on the sanctity of life and the responsibility of Catholics to honor it.
"There are no accidents; God created every man and woman with purpose," he said. " … The life that we have been given is a gift. Each and every person is willed into existence by God. We need to embrace our lives and the lives of others."
Catholic social teaching highlights the intrinsic social nature of the human person, he said. "Yes, you are your brother's keeper; we can't excuse ourselves from that responsibility."
Christina Malloy, who attends St. Catherine of Siena Newman Center and is director of Sidewalk Advocates for Life, shared the work she and other members of her group have been doing outside a local abortion clinic.
The abortion industry preys on women and tells men they have no choice in whether their child lives or dies, she said. "We say 'You're strong; you're not alone; we can help.'"
The group has documented 5,412 lives that have been saved since it formed in 2014.
To conclude the workshop, Jean Hill, director of the diocesan Office of Life, Justice and Peace, outlined some bills set to come before the Utah Legislature in the coming weeks and the Church's stance on each.
At the Utah Legislature, two bills that address firearm safety and storage provisions have the Church's support.
Bills that provide help for human trafficking victims and the elimination of an exception to the prohibition against slavery and involuntary servitude in the state constitution are also supported by the Church.
A bill that would mostly prohibit abortions after 15 weeks is supported by the Church, but the Church is concerned that another bill might suggest some babies are more deserving of protection than others. HB 166, Down Syndrome Non-discrimination Abortion Act, would prohibit a person from performing or inducing an abortion if the pregnant woman is seeking it only because the child may have Down syndrome. The bill also would mandate that a woman receive information on Down syndrome prior to seeking an abortion.
A bill opposed by the Church would legalize assisted suicide for those with terminal illnesses who are nearing the end of their lives. Hill said the bill, versions of which have been debated in past legislative sessions, is not expected to go far because it does not have widespread support.
Other bills seek to revoke the Medicaid expansion recently approved by Utah voters, which the Church has actively fought for over the last five years.
The Church supports a bill which would provide $24 million for affordable housing, along with a bill that would provide an earned income tax credit for certain low-income people.
The Church is watching a bill that would provide increased penalties for crimes against those targeted through prejudice. Hill said instead of increasing penalties for those acting out of prejudice, those who commit such crimes should be rehabilitated.
Hill maintains a complete list of the bills and the Church in Utah's stance on them on the diocesan website under the Office of Life, Justice and Peace tab ("Legislative Priorities").