Workshop speaker: Gratitude is key to stewardship
Friday, Oct. 13, 2017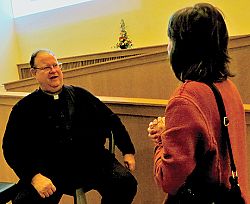 IC photo/Michele Swaner
+ Enlarge
SANDY — "Stewardship is about gratitude – gratitude for the gifts and blessings we have received from God. Our purpose on earth is to know God, to love God and to serve God. One of the ways we serve Him is by helping others, and it's through service to God that we find our greatest happiness, joy and fulfillment," said Benedictine Father Andrew Kemberling.
Fr. Andrew is chairman of the Board of Trustees of the International Catholic Stewardship Council, an organization with 1,200 members worldwide that "promotes and supports Catholic teaching on stewardship by providing education and resources for dioceses, parishes, and institutions of the Roman Catholic Church," according to its website. He also is co-author of the book Making Stewardship a Way of Life: A Complete Guide for Catholic Parishes.
Prior to his current position as pastor of St. Vincent de Paul Parish in Denver, Colo., Fr. Andrew served as pastor to St. Thomas More Parish in Centennial, Colo. While he was pastor at St. Thomas More, the parish received numerous awards for its stewardship efforts.
Fr. Andrew spoke at a stewardship seminar on Oct. 3 at Blessed Sacrament Catholic Church. Approximately 35 Catholics from parishes across the Salt Lake Valley gathered to learn about stewardship and the ways to develop a successful stewardship program.
"Fr. Andrew makes stewardship practical and accessible to the laity, while emphasizing that gratitude is a fundamental part of stewardship and is woven into the very fabric of faith," said Karin Hurley, a parishioner at St. John the Baptist Catholic Church, who said she has heard the priest speak at other events.
According to Fr. Andrew, the more people give of themselves, the more room there is for God in their hearts. In a perpetual cycle of giving and receiving, generosity to God allows people to become more open to receiving an abundance of gifts or blessings from Him, he said.
He noted the four core values of stewardship: identity – recognizing that God made people in His image; trust that God will take care of people's needs; gratitude for all of the blessings that flow from Him; and love that allows people to give to Him and others through commitment of time and talents.
In discussing the spirituality of stewardship, Fr. Andrew stressed three fundamental ideas for Catholics: making a commitment to their local parish, renewing the commitment each year, and taking the time to make prayer a part of everyday life.
"The act of prayer is so powerful – you need to make the time to do it every day. We all have busy lives, and it probably seems like one more thing. But it is doable – daily prayer will make you happier, bring you closer to God and confirm your commitment to others," he said.
Stewardship is a practical way to find God in today's society, he said.
"We live in a world where we're infected by consumerism and wanting material things," Fr. Andrew said. "We all have too much stuff, and we've gotten confused into thinking the things that we want are the things that we need. Let's get our priorities straight and recognize that people are always more important than things."
In discussing talent as part of stewardship, Fr. Andrew noted that all people deserve the same opportunities in life, but not all people have the same talents, so these differences should be recognized and celebrated in planning a stewardship program. "When we accept that everybody has different talents, then we can help people use their gifts more effectively to serve God and the Church," he said.
"Faith is a gift that we receive," he added. "It's also a journey, and part of that journey is sharing our faith with others through teaching, serving in the ministry or as a volunteer.
Fr. Andrew encouraged attendees to offer support and appreciation for the clergy and to provide guidance for children or young adults seeking a vocation in the Church.
Parishioners often give money each week during the collection without much thought, believing this is something they should do to help pay the parish bills, but Fr. Andrew said this kind of thinking is shortsighted. "We hear a lot about 'mindfulness' today. When people give money to the Church in a mindful and intentional way, their gift becomes something special that is offered to God as part of the Mass. As Catholics that's how we should think of it each time the collection basket comes around – as a wonderful opportunity to give back to God."
In closing, Fr. Andrew noted that stewardship is about being in 'right relationship with God' and understanding that everything in life is from Him.
"It's about having a warm and open heart that allows us to go forward and serve others, which in turn brings us closer to God," he said.