Workshops to help parishioners tackle issue of homelessness in the community
Friday, Jul. 05, 2019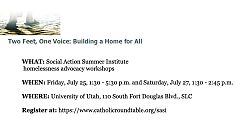 + Enlarge
SALT LAKE CITY — The issue of homelessness has been front and center in the news for many months as local government agencies and community advocacy groups have grappled with how to best provide services to the destitute. With recent changes, there is an unprecedented opportunity for local Catholics who seek to more fully live their faith and incorporate the principles of Catholic social teaching into their lives to get involved.
However, those who are interested in doing so may feel stymied by a lack of knowledge of how to get organized and join with other like-minded Catholics who care about the issue.
Two workshops at the upcoming Roundtable Association of Catholic Social Directors Social Action Summer Institute, a national social action seminar that is being held July 25-28 at the University of Utah, will attempt to bridge that gap. With a theme of "Two Feet, One Voice: Building a Home for All," this year SASI is focused on "giving voice and fostering systemic change for people experiencing homelessness or statelessness," according to its website.
The first workshop, on Friday, July 26, will be presented by One LA IAF's lead organizer, Robert Hoo. One LA is a network of religious and non-profit institutions in Los Angeles that brings together people from various communities to address issues of common concern. At the forefront of its efforts has been addressing the issues of housing and homelessness in the greater Los Angeles area.
"It is very common reading the newspapers or turning on the news and feeling an intense sense of despair that the world is broken and we can't trust our elected officials to do anything about it," Hoo said. "This workshop will show how people can learn and develop the skills to get involved in public life and make their community a better place."
Hoo has a Bachelor of Arts and a Doctor of Jurisprudence degree from Yale University, and has led trainings sponsored by the Roman Catholic Archdiocese of Los Angeles, Roman Catholic Diocese of Las Vegas, Episcopal Diocese of Nevada, Desert Southwest Conference of the United Methodist Church, and many other faith communities across the country.
He will share basic principles of community organization in the specific context of what One LA has done in its community. The hands-on workshop will feature small group conversations, dialogue and interaction where participants will learn skills to help create a common will and desire to address homelessness in Utah, Hoo said. The workshop is being sponsored by the Catholic Campaign for Human Development.
On Saturday, July 27, Sean Wendlinder, a grant writer with the CCHD, will present "Organizing for Affordable Housing." In this interactive session, participants will learn how congregation-based organizing campaigns are developed and used to address the root causes of the affordable housing crisis.
Those who are interested in pursuing this opportunity can register at https://www.catholicroundtable.org/sasi/. The cost for the full week, including meals, is $335. Individual registration for Friday and Saturday is $75 per day. Registration deadline is July 12.