Young adults gather to celebrate Easter resurrection
Friday, May. 11, 2018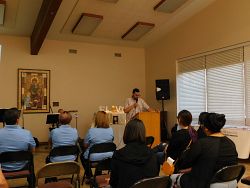 IC photo/Laura Vallejo
+ Enlarge
SALT LAKE CITY — Nearly a dozen young adults gathered at the St. Vincent de Paul Parish's Benvegnu Center on April 27 to celebrate the Easter resurrection at an event organized by the diocesan Office of Youth and Young Adult Ministry.
The event, which was conducted in Spanish, had moments of reflection with lectio divina, games and worship.
"Welcome all. We are going to reflect on two messages of the Resurrection that are going to help us think and reflect more about Easter," said Junuee Castro, director of the Office of Youth and Young Adult Ministry, as she introduced Jaime Zuazo, who led the reflections.
Zuazo, a parishioner of Sts. Peter and Paul Catholic Church in West Valley City, started by asking the participants to open their hearts.
"Lectio divina is a very powerful way of reading the Gospel. … This is a way to hear God's words, but in a way with our hearts and mind open, hearing more with our hearts than with our ears," he said.
Emphasizing that if the people opened their hearts the lectures would lead them to something more, Zuazo read John 20: 1-12, the Scripture passage about Mary Magdalene finding the empty tomb of Jesus, then running to tell Simon Peter. He, with the unnamed disciple, then entered the sepulcher to find nothing but the linen clothes.
After the lecture, Zuazo asked which character of the story they identified with.
"This is very powerful. It opens our hearts and also guide our lives," Zuazo said.
Young adults from parishes such as Our Lady of Guadalupe, Saint Francis Xavier, the Cathedral of the Madeleine, Sts. Peter and Paul and Sacred Heart, among others, attended the event
"I come to these events because I enjoy them very much," said Paula Quijano, from St. Francis Xavier Parish in Kearns.
Quijano used to be the youth coordinator at her parish and she said that that left her hungry to keep learning and preparing and sharing with the Catholic youth.
"I like the gatherings and sharing among young people, … knowing that we all believe in the same things," said Quijano.
"We are celebrating the Resurrection, which is a moment of joy and celebration," Zuazo said, adding that when Scripture is read with the lectio divina process, "we can hear our Lord talking to us."