At parish DCCW event, Utah attorney general discusses human trafficking
Wednesday, Jan. 30, 2019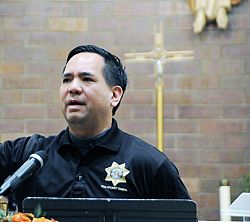 IC photo/Linda Petersen
+ Enlarge
SALT LAKE CITY — A human trafficking presentation by Utah Attorney General Sean Reyes at St. Vincent de Paul Parish drew many members of the parish's Diocesan Council of Catholic Women's group and others to hear his remarks.
More than 50 million people worldwide are estimated to be victims of human trafficking; that's close to 40 million more than were affected by the more than 300 years of the transatlantic slave trade, Reyes said.
The National Council of Catholic Women sponsors an anti-trafficking project that encourages members to educate themselves on the topic and to work to end human trafficking. In that spirit, the St. Vincent de Paul CCW group sponsored this event.
Human trafficking involves not only the sex trade but also slave labor, the human organ market, illegal adoptions and conscription of millions of children by warlords, Reyes said.
He shared stories of human trafficking networks in the United States and in other countries that he has been a part of eradicating. Human trafficking is the fastest growing criminal enterprise worldwide, he said. Next to the drug trade, it is the most lucrative business with very little risk and an "unending supply of human life all around the world."
"As traffickers we caught told us when we asked why they did it said, 'You can only sell drugs once; you can sell a boy or girl thousands of times,'" he said.
Also, despite what many Utahns want to believe, human trafficking is as prevalent in the Beehive State as anywhere else, Reyes said.
Utah is attractive to traffickers because it is a crossroads for major thoroughfares from Mexico and major ports like San Francisco, he said.
Additionally, contrary to its reputation as a quiet state, there is a strong market for sex slaves here. Reyes recounted the story of a major sting in which officers posing as parents posted ads offering sex with minors that drew thousands of responses, and hundreds of individuals from areas like Holladay, Cottonwood Heights and Sandy showed up to meet with the "parents."
"These were people that looked just like you and me," Reyes said. "Some of them were professionals; most of them looked so normal. … The sad reality is there are people in Utah who will exploit others, just like anywhere else."
Reyes said he feels his involvement in trying to eradicate human trafficking is a vocation.
"At the highest level, I believe those children are all our children, part of our human family," he said. "I feel like God called me to do that. … It hurts my soul to think about these young people and adults who are trapped in human slavery."
Everyone can help in this effort by sharing information about human trafficking, such as articles posted on the National Council of Catholic Women's website.
They can also keep their eyes and ears open and report anything suspicious they see. While keeping themselves safe, if they see anything, they can record license plate numbers, discreetly take photos and share them with the authorities.
"If you see something remotely resembling trafficking – if your Spidey senses go off in any way – please report it," he said.
Traffickers can target anyone but most commonly go after those who are most vulnerable, such as children who are ostracized by their peers, Reyes said.
Concerned adults can watch for changes in a child's behavior or large amounts of unaccounted for free time, and also be aware of what young people are doing online because many trafficking cases start there, he said.
Perpetrators also often report that they first began their compulsion with accessing online pornography, Reyes said.
Utah has become a leader in the fight against human trafficking as ordinary Utahns, community organizations such as the Asian Association of Utah, legislators and law enforcement agencies have become more aware of the problem and model laws have been passed to combat it, he said.
Reyes said most victims of human trafficking who are not actually kidnapped are brought into "the life" under false pretenses. They are promised jobs or education or are told they will be part of some cultural exchange such as English language programs.
However, once the traffickers separate them from their homes and personal networks, they are usually then imprisoned, threatened and drugged into submission and forced into sexual slavery or indentured servitude.
Some wonder why, when an opportunity arises those who are enslaved do not escape, but they are often told that if they do their captors will hunt them down and kill their families, Reyes said.
What others can do to help is treat trafficking survivors with compassion, love and understanding, he said.
Resources to combat human trafficking
To report human trafficking, or for help, call:
The Polaris Project National Hotline: 1-888-373-7888; Text INFO, HELP or BeFree to 233-733
In Utah, call 801-200-3443
Other resources:
* National Council of Catholic Women Anti-trafficking project: information, youth mentoring guides, service projects and more -www.nccw.org/commissionscommittees/
* SAFEUT Smart Phone app: a statewide service that provides crisis intervention to youth through texting and a confidential tip program - https://healthcare.utah.edu/uni/safe-ut/
* Backyard Broadcast: a youth-driven movement dedicated to raising awareness and preventing the sexual exploitation of children in the United States and Canada - backyardbroadcast.org/
* Fight the New Drug: A Utah organization that educates about the dangers of pornography addiction and provides an online recovery program - https://fightthenewdrug.org/