Intermountain Catholic
"We embark on our spiritual journey with Christ this Holy Week and Easter in a special time of great tribulation and uncertainties due to the coronavirus pandemic. ..."
>>>
"These are extraordinary times and we are treading in unchartered territories. ..."
>>>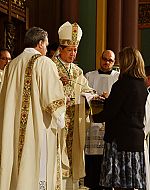 Current circumstances have allowed for some rare opportunities for local Catholics:the diocese's annual Chrism Mass at the Cathedral of the Madeleine will be livestreamed.
>>>