Couples For Christ Spanish Retreat
Friday, Feb. 15, 2019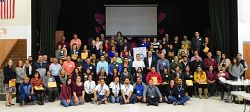 IC photo/Laura Vallejo
+ Enlarge
SALT LAKE CITY — Sharing stories, learning about the Holy Spirit within families and joining in the Eucharistic celebration at which Bishop Oscar A. Solis presided were all part of the day as around 100 people gathered at the Madeleine Choir School campus for a diocesan marriage enrichment retreat in Spanish.
A similar retreat in English is scheduled for Saturday, Feb. 23. For information, see the listing in Around the Diocese.
On Feb. 9, three couples and two men, all part of the Couples for Christ team, presented an array of themes to the participants.
Couples for Christ "is a Catholic movement intended for the renewal and strengthening of Christian family life," according to the ministry web page.
It began in the Philippines in 1981. From then on "CFC became a Christian family life renewal which was later made available to parishes and groups of married couples who wished to live out their Christian life in an active supportive relationship with one another," the web page states. "In 1996, CFC was approved by the Catholic Bishop's Conference of the Philippines as a national private association of lay faithful. In 2000, CFC was recognized by the Holy See (Vatican) as a private international association of the lay faithful of pontifical right."
For the Spanish-speaking members of the Catholic Diocese of Salt Lake City, the Feb. 9 event was presented by CFC and the diocesan Office of Hispanic Ministry.
In a Jan. 15 memo to priests, deacons, religious women, principals, directors of religious education and diocesan staff, Bishop Solis endorsed Couples for Christ and their incorporation as an "integral part" of the Office of Family Ministry.
"Our diocesan Pastoral Plan defined Marriage and Family Life as part of the priorities of our renewed evangelization mission in the coming years," the bishop wrote.
The Feb. 9 event was the first time CFC has presented a retreat in the diocese. Many of those who attended are members of the current class of the EMAUS lay ecclesial minister formation program.
"When we started planning this … we didn't expect to have all these couples," Doroteo Ricky Coronel, coordinator of CFC, said with excitement for having such a great response and welcome.
"I believe this is a seed. We are responding to the call of Bishop [Solis]," Coronel said. "We believe that God has sent us in this direction; we have been inspired by the Holy Spirit to help grow the Catholics here."
One of the CFC couples, Felipe Malfavon Rivero and Rubi Lorenicia Alvarez, talked about the importance of having the Holy Spirit present in family life.
Every presentation they give is different, and "it's a blessing and a great opportunity not just to teach couples and families, … it is an opportunity to learn together because to know that it's God's love that invites us to share His words. … It's just wonderful," Rivero said.
Having the opportunity to get to know new people and to learn through their stories "who we are and where we came from – it's a motivation to keep on growing in the Catholic faith," Rivero said.
"Each time that we share something in each of the talks we always hear something new, something that inspires us. It's a blessing," Alvarez added.
With moments of reflection, prayer, healing, music and worship, the retreat culminated with the Holy Mass celebrated by Bishop Solis.
"Dear brothers and sisters, today we have heard about the call to the discipleship and mission. This is a reminder of our mission for all of us. … We share the dignity of being children of God," said Bishop Solis, asking how many were aware of their responsibility as missionary disciples.
"With this renewal of information it has been a growth for all of us," said Joel Romero, who attends St. Joseph Parish in Ogden and is a certified lay ecclesial minister through the diocesan EMAUS formation program. "It has been a great blessing that we can keep on proclaiming God's word; that we can share the kerigma, that we can evangelize more."
"We want to be part of a bigger Body [of Christ] here in Utah. ... We want to help Catholics be more active, to be more involved," Coronel said.