Fundraiser to benefit Give Me A Chance
Friday, Aug. 03, 2018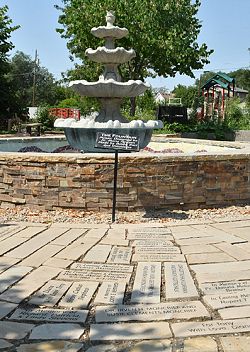 Intermountain Catholic
+ Enlarge
OGDEN — Give Me A Chance, a Daughters of Charity of St. Vincent De Paul program that provides classes for low-income women in sewing, art and music, computer literacy and English as a Second Language, along with afterschool and summer programs for children, will hold its annual fundraiser on Aug. 25.
The sixth annual event, called "Enchantment in the Summer Garden," will provide operating funds for the programs and for maintenance of the garden. An annual golf tournament to benefit Give Me a Chance was started last year; this year, it doubled in size, said Sister Arthur Gordon, the program director, adding that these annual appeals are the only way that the center will be sustainable.
All of the programs are provided free of charge by the center, which has also offers support groups and counseling for parents. About 75 people are served by the programs, which are staffed by volunteers. The after-school program is capped at 26 students to provide quality instruction. The volunteer tutors include two retired special education teachers, who help the children with homework and provide concentrated instruction in reading and math.
"It's important to help them with their education so they can get ahead," Sr. Arthur said.
"We have some third-graders who can't read," she added, and related a story of a student who had been helped by the program but then had difficulties in high school. A tutor at Give Me a Chance again worked with the girl, and "one day I was walking through to go to the other office, and I heard the girl say, 'Oh, I get it! Oh, I got it! I got it! I got it! I got it!' And I was thinking to myself, 'Boy, how fun that must be for a teacher to hear a child say that,'" Sr. Arthur said.
Sr. Arthur said she later learned that the student received all As and Bs on her most recent report card.
The charity benefit, for adults 21 and older, will be held at the Guadalupe Garden, which was completed last year as a place of relaxation and beauty for Give Me A Chance's clients. The band Shades of Gray will provide music for the event and advisory board member and local attorney Javier Chavez, Jr. will be the master of ceremonies for the evening.
Along with the meal and entertainment there will be both live and silent auctions to raise funds for the programs.
For those auctions, organizers are still accepting donations, which will include gift certificates to local restaurants and businesses and Utah Jazz packages. There will also be gift baskets of all sizes and price levels featuring such items as movie passes and jewelry. Three handmade quilts, two of which were made by participants in the quilting class, will be auctioned off. Participants who purchase necklaces for the head or tails game will have a chance to win half a beef.
At the benefit, members of the sewing class will model their own creations as well as merchandise from the DeMarillac Formal Attire store in a fashion show. Give Me A Chance operates the store, which provides training opportunities for individuals in sewing, alterations and store management.
Art students will also display their work, some of which will be for sale.
Give Me A Chance was founded in 2010 to help provide women in Weber County with skills to support their families. It is run by three Daughters of Charity sisters: Program Director Sr. Arthur Gordon, art and music instructor Sr. Lucia Lam Nguyen and sewing instructor Sr. Milagros Federico.
The Daughters of Charity, founded in 1633, has 19,000 members who minister all over the world. Members of the religious order have ministered in Utah since 1920.
Organizers of the charity benefit have a goal to match the $25,000 raised at last year's event.
"Last year was a phenomenal year," said organizing committee member Lynn McInally." It would be great if we could come close."
Marie Mischel contributed to this article.
WHAT: Charity Benefit for Give Me A Chance
WHEN: Saturday, Aug. 25, 5 p.m.
WHERE: Guadalupe Garden, 2913 Grant Ave., Ogden
COST: $50, includes dinner and one drink ticket
For those over 21 only. Dress is business casual. RSVP to Lynn McInally 562.449.5224 or lynnmcinally@yahoo.com. To donate items for the silent or live auctions, contact Bobbie Hunt, 801.721.2628.