JoAnn Adams
Friday, Apr. 14, 2017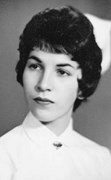 + Enlarge
Dec. 13, 1938 – Feb. 25, 2017
JoAnn Adams, beloved wife, mother and grandmother, passed away Feb. 25, 2017. She was born Dec. 13, 1938 to Lucy and Louie Spera in Bingham Canyon, Utah.
She graduated from Bingham High School and Holy Cross School of Nursing. She married Fred Adams on Jan. 21, 1961 in Canon City, Colo. while he was in the U.S. Air Force.
After returning to the Salt Lake area, they raised three daughters and a son, nurturing them with humor, blunt honesty and good old Catholic guilt. She supported their interests, made peace among them and held them together as a family.
JoAnn worked as a clinic nurse for Hercules and then at Cottonwood Hospital. Over the course of more than 30 years in labor and delivery, she helped thousands of babies into the world, including four of her grandchildren. She cherished her six grandchildren, supporting them at sporting events, artistic performances and doting upon them always. She always said her grandchildren were the cutest and the smartest. A lifelong Catholic, JoAnn attended Mass at St. Joseph the Worker and St. Therese of the Child Jesus parishes.
JoAnn was preceded in death by her parents.
She is survived by her husband, Fred; daughters Shelly (Dennis) Edmonds, Deborah (Jeff) Bennett, and Kim Adam; son Donald Adams; grandchildren Mitch, Jillian and Marcus Edmonds, Matthew and Daniel Bennett, and Jaron Adams; and aunts Pearl Parlapiano and Lena (Bob) Hench.
The family wishes to thank the staff of Intermountain Medical Center, 9th floor oncology and the Lodge hospice for their compassion and professionalism.
Funeral services were March 2 at St. Therese of the Child Jesus Catholic Church.