José (Joe) Federico (Fred) Gallegos
Friday, Jun. 26, 2020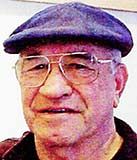 Courtesy photo
+ Enlarge
The Original Fish Whisperer
June 29, 1933 ~June 4, 2020
Joe Fred was an entrepreneur, philanthropist, concrete mason, landlord, expert pool player and homebody. He was born in La Jara/Cuba, New Mexico to Alfonso T. and Elia S. Gallegos. He was the fourth of nine children. He viewed his family as very successful and was proud of everyone's accomplishments. Joe Fred's schooling was at Riverside Elementary, Jackson Junior High and West High School. He graduated from Salt Lake Community College with a degree in graphic arts. Joe Fred was a talented artist specializing in water colors.
His proudest achievement was to work with his four sons on different work projects, including the south wall of East High School, the I-80 freeway section from Salt Lake City to Park City, and on his daughter's project with the Blessed Virgin/St. Francis of Assisi statues. He was an accomplished athlete, being a four-time Golden Gloves champion.
Fondly know as "Pops" by his children, he represented the United States in the U.S. Olympics in boxing while he was stationed at the Presidio of San Francisco Army base in 1952. He owned a successful business called Fred's Concrete and worked at the Rotary Boy's and Girl's Club, Bramer, and as an engineering land surveyor. He was recognized as a world-class cement contractor by Local 568. Of note was Joe Fred's national work in LDS temples on their baptismal fonts and Camp Kostopulos. He made many lifelong friends through work, volunteering at the downtown senior center, and in playing team sports.
He is survived by his sister Gloria Peters (Bill); brothers Alphonso Jr., Andrew (Joan), and Richard; sister-in-law Josephine Roller; daughter Federica (Feek's), son Mark (Desiree'), son Daniel; grandchildren Tommy (Sandi), Nicole (John), Markus, Michael, Emiliano, Marcelino, Cassie, Quinton, Ryan, and Junior; great-grandchildren Isaac, Taylor, Emily, Markus, Bella, Thomas Jr., Madelynn and Matthew; and several nieces and nephews.
He was preceded in death by his parents; brothers Epifanio, Josephine, Arthur and Efren; his wife, Jenny Quintana; and sons Isaac and Jerome.
The family would like to thank his caregivers, especially those at the Veterans Administration, specifically Dr. Anne Daly and her staff, his personal nurse Rene', his neighbors Lee and Karen, Amy and Carol Pino, and his son Daniel.
A funeral Mass was celebrated on June 18 at Our Lady of Lourdes Catholic Church. Committal, Mt. Calvary Cemetery.