Marie Henrietta Brinkman
Friday, May. 11, 2018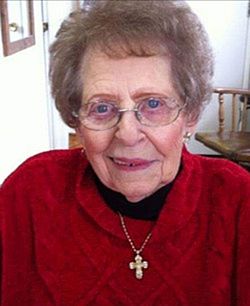 + Enlarge
February 26, 1918 ~ March 25, 2018
Our loving mother, grandmother, great-grandmother, great-great-grandmother and friend, Marie Brinkman, passed away March 25, 2018 at Milford Memorial Hospital with her family by her side. She was 100 years young and accomplished all she wanted to do.
Marie was born in Farming, Minn. Feb. 26, 1918 to Herman Korte and Katherine Meyer Korte. She married A.A. (Fuss) Brinkman in Farming on Jan. 18, 1938. She then moved to Idaho Falls, Idaho, where their first three children were born. In 1943 they moved to Hereford, Texas, where their last three children were born. In 1952 they moved to Milford, where she worked at the Hong Kong Cafe for about 40 years, retiring when it closed. She was 86 years old then.
Fuss passed away in April of 1985. He was the love of her life. They were devout Catholics and members of St. Bridget Catholic Church in Milford.
Marie was preceded in death by her husband, Fuss; nine brothers and sisters; and a daughter, Joyce Evans. She is survived by children Ron (Sheila) Brinkman of Milford; Jackie Prodzinski of Salem, Ore.; Louise Radke of Draper; Bernadette (Don) Wice of West Valley City; Bart (Debbie) Brinkman of Surprise, Ariz.; 21 grandchildren, 54 great-grandchildren and 21 great-great grandchildren.
A funeral Mass was celebrated April 3 , 2018 at St. Bridget Catholic Church. Burial was at Milford Cemetery, under the direction of Southern Utah Mortuary.
In lieu of flowers you can make donations to Milford Valley Memorial Hospital or St. Bridget's Rosarian in Marie's name.
Our thanks to the doctors, nurses, aides and workers at the hospital for our mom's tender loving care. We really appreciate and love them.