Support for the unborn brings marchers to Capitol
Friday, Jan. 31, 2020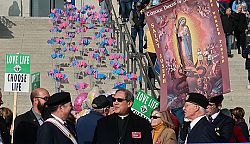 IC photo/Linda Petersen
Photo 1 of 7
SALT LAKE CITY — Local Catholics joined with thousands of other Utahns from all walks of life to protest abortion in the Jan. 26 March for Life organized by Pro-Life Utah at the Utah State Capitol. They traveled from all across the state, from Ogden to St. George, to participate that day. They came in droves, bringing their children, some in strollers. The elderly and disabled, some with walkers or in wheelchairs, came too.
Anne Stein, who attends St. Marguerite Catholic Church, refused to let her severe arthritis keep her from participating in the march, so she organized the use of a wheelchair. Her husband, Barry, pushed her along the route, which took marchers around the Capitol.
"This cause is greater than anyone's individual issues," Anne Stein said.
Mary and Kellen Maharg of St. James the Just Parish participated in the march on behalf of their unborn daughter, Cecelia. Mary Maharg is 31 weeks along in her pregnancy.
"We're standing up for her rights while she is in the womb," Mary Maharg said, "because unlike what the culture tells us, I don't have the right to harm her in an abortion. She has her own life; she has her right to life so we're here to stand up for that."
Two parishes, St. Joseph the Worker and St. Thomas More, organized buses to take their parishioners to the march. Louis Lopez, a St. Joseph the Worker parishioner, wore a Korean War veteran hat and carried a sign that read, "Atomic Bomb Survivor for the Babies Never Born."
At a breakfast in the parish hall before the march, mother and son, Darrell Lee Garcia and Isaiah Garcia, made a poster that read "A Person is a Person No Matter How Small." Isaiah drew a picture of Dr. Seuss' elephant Horton to go with the poster.
Darrell Lee said her son is in the parish's Confirmation class, and they were attending the march as community service. "Plus, we are definitely pro-life," she said. A close family member had an abortion many years ago, "and I don't think her heart will ever heal … so anything we can do in the community to support, we do."
Also participating from St. Joseph the Worker Parish were Annie and Pat Vail, who have attended the March for Life in previous years. They liked having a bus so as not have to worry about finding a parking space near the Capitol, they said.
Pat Vail made a poster that read, "Voces para que no tienen voz" (Voices for those who don't have a voice"). The Vails said they support the parish's pro-life issues. Annie Vail said the couple wants to offer help to new mothers, and those with young children. "That's why it's important helping mothers in need, especially when they are very young and they have nobody," she said.
Jessica Mower, of St. Martin de Porres Parish, joined the march with her friend Ruth Lowe from St. Thomas More Parish, and brought her two children Casey, 6, and Alexis, 5.
"We're here to speak for the unborn and to stand up for those who cannot speak for themselves," Mower said. She brought her children because she wants them to be active participants in the fight against abortion and to understand how important events like the march are, she said.
Prior to the march, Bishop Oscar A. Solis led the faithful in the rosary to pray for the unborn. The bishop then gave the opening prayer at a gathering of all the groups in the Capitol's rotunda. During the gathering, those in attendance heard from Sen. Dan McCay (R-Riverton) who is sponsoring a bill that would end elective abortions in Utah; and Dusty Johns, a pro-life speaker and post-abortive woman. In addition, individuals who have helped further the cause of the unborn were honored.
After the presentations, the thousands who were present gathered outside the Capitol behind Bishop Solis, members of the Knights of Columbus and a banner of Our Lady of Guadalupe to march in solidarity for the cause of the unborn. Many wore name tags representing the 3,000 babies who have been aborted in Utah in recent years.