Utah Knights of Columbus present 2022 awards
Friday, May. 13, 2022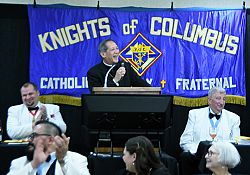 Intermountain Catholic
+ Enlarge
OGDEN — Knights of Columbus from throughout Utah gathered at the Comfort Suites Ogden Conference Center May 7-8 for their 2022 state convention, which included the awards banquet on Saturday night.
"I always take pride in being around Catholic gentlemen who are involved Catholics and partners in the mission of the Church," said Bishop Oscar A. Solis in his remarks at the dinner.
The bishop, who is a Knight and served as a state chaplain for the organization while he was an auxiliary bishop in California, urged those at the dinner to "be a witness of God's presence in this world. Be a witness of God's love, compassion and mercy through your works of charity. Be a beacon of light to a world immersed in the darkness of suffering, of pain, or whatever challenges or tribulations."
"We who call ourselves Knights of Columbus have a very important role to play in order to make a difference in our world today. … If we live the principles and ideals of our fraternal order, we're going to have a different community; we will have another world," Bishop Solis said.
The Utah Knights are already "changing lives and winning hearts" throughout the state as a result of putting their faith into action and the organization's principles of charity, unity and fraternity into practice, said Rennan J. Duffour, Supreme Director of the international fraternal Catholic organization.
In the past year, Utah Knights raised more than $371,000 for various charitable efforts and contributed more than 76,000 hours toward programs such as purchasing an ultrasound in a mobile van, sponsoring the diocesan science fair and collecting coats for children in need.
The Knights support vocations in the diocese in several ways. The Utah Knights Refund Support Vocations Program RSVP provides individual seminarians with money, personal communications and encouragement. This year, 22 councils and one assembly in Utah offered this support to the 11 diocesan seminarians.
A disbursement from the Christopher Fund through the national organization and the Knights of Columbus Charities, together with donations from 16 local councils, totaled $1,504.75, while the interest on the vocations fund together with donations from 19 councils totaled $3,950.40.
In addition, the disbursement from the Culture of Life fund, combined with donations from 17 councils, totaled $2,704.40.
The efforts of the local Knights contributed to a record year of the organization's activities worldwide, Duffour said. Throughout the world last year, the Knights of Columbus donated $1.85 million and 76 million man hours to charity and the Church, he said.
He mentioned the Knights' work in Ukraine and Poland, particularly. With almost 9,000 members in 200 councils in those two countries, when the war broke out the Knights "offered homes, and comfort to refugees in Poland, provided essential food, services and shelter in mercy huts on the Poland/Ukraine border, and [got] essential food and medicine to those sheltering in Ukraine," Duffour said.
To date, the Knights' Ukraine Solidarity Fund has raised more than $11 million, he said.
2022 Utah Knights of Columbus Awards
Inaugural 4th Degree Patriotic Scholarship
James A. Gannon, Assembly #3501 in Cedar City; attending Southwest Technical College
Council 602 Columbian Society Scholarship
Ella Martin, Kearns High School
Dan Higgins Memorial Scholarship
Gracson Marie Milton, Juan Diego Catholic High School
Utah State Council Scholarship
David Bouley, Woods Cross High School
To Be A Patriot Award
Assembly #1429 in the greater Ogden area, for their Vietnam Replica Memorial Cleanup project
Faith Award
Bishop Hunt Council 5214 in Kearns, for their "5214 Supports the Carmelites" program
Family Activity Award
Mother Teresa of Calcutta Council 12181 in Draper, for their Pie N Beer Day event
Community Activity Award
Bishop Hunt Council 5214 in Kearns, for their Knights at School program
Life Award
Mother Teresa of Calcutta Council 12181 in Draper, for their Nocturnal Adoration for Life
2021-2022 Knights of Columbus Chaplain of the Year
Father Samuel Dinsdale, pastor of Blessed Sacrament Parish in Sandy
2021-2022 Knights of Columbus Family of the Year
The Palmer Masumbe-Netango family, St. Thomas More Council 11479 in Cottonwood Heights
2021-2022 Knight of the Year
Charles E. Dover, Jr., St. Martin de Porres Council 10304 in Taylorsville