V Encuentro program to evangelize and create a missionary Church in the Diocese of Salt Lake City
Friday, Nov. 10, 2017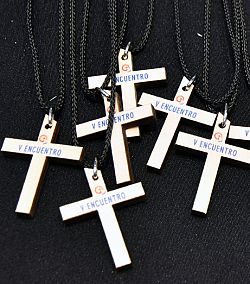 Intermountain Catholic
Photo 1 of 2
SALT LAKE CITY — The final steps of the V Encuentro (Fifth Encounter) process in the Catholic Diocese of Salt Lake City will be celebrated with an event on Nov. 18 that will include a Mass at which Bishop Oscar A. Solis will preside.
The national V Encuentro is a priority activity for the U.S. Conference of Catholic Bishops. Titled "Missionary Disciples: Witnesses of God's Love," it involves a five-week evangelization process with five main themes: "Called to a Loving Encounter with Jesus," "With Words and Actions: Do It!," "Walking Together with Jesus," "Bearing Fruits of New Life" and "Celebrating the Joy of Being Missionary Disciples."
The Encounter "invites all Catholics across the United States to missionary activity, leadership development and identification of best ministerial practices in the spirit of the New Evangelization," Bishop Solis said.
During the Nov. 18 event, each of the Encounter's five sessions will be briefly reviewed. These sessions were originally presented to 165 delegates from parishes throughout Utah who attended a five-week evangelization training. These representatives were sent forth by Bishop Solis from the Sept. 29 Pastoral Congress to return to their parishes and missions "to spread the Encounter in our diocese," said Maria Cruz Gray, director of the diocesan Office of Hispanic Ministry, who led the local Encounter efforts.
Among the delegates is Fabiola Trujillo, a Sts. Peter and Paul parishioner who sees the V Encounter as "a calling from God that He has made through Pope Francis and through our bishop. … In this he reminds us that we are baptized as missionaries of God's love and, because of that, we need to go out of ourselves, out of our comfort zones, and encounter our brothers and sisters that have left our Church, that live in the peripheries," she said.
As she has put the lessons from the V Encounter into practice, Trujillo has discovered that most Catholics with whom she talks are not committed to the faith, she said.
"But through this process we have come to realize that they really need this process, and they have needed it for a long time," she said.
At her parish, the 16 Encounter delegates have created two small communities of missionary disciples who reach out to others on the peripheries.
Many of those who have fallen away from the Church are happy to be contacted and interested in continuing the Encounter process, Trujillo said. She said among the most frequent comments she has heard are "We were waiting for this moment," "Why didn't the Church have this program [before]?" and "Why haven't people gone out yet and spread the news?"
Those who have left the Church did so for different reasons, including that they were tired of being asked to volunteer so much or work so hard in their parish, Trujillo said.
"We have come across the fact that we can, and have to, be their companions in their journey of faith," she said. "We have discovered that we can help them identify their talents and treasures for the good of themselves as Catholics and for the good of our local Church."
As an Encounter delegate, Trujillo realized that she had been in a "comfort zone" with her religion, she said, although she has always participated in parish and diocesan programs, and two years ago was certified as a lay ecclesial minister.
"I have always been active in the Church but in a comfortable way, and now with the V Encuentro I have left the comfort zone and gone out and reached out," Trujillo said.
The Nov. 18 event will celebrate all of the V Encounter delegates as well as the missionary disciples and the people from the parishes who participated in the process.
Next spring, representatives from the diocese will share recommendations gathered during the local Encounter at a conference with others from the episcopal region. Following that will be a regional conference.
Reports based on recommendations from these conferences will assist dioceses to better identify strategies, implement recommendations and set priorities in a more inclusive way to continue shaping how Hispanic ministry is done based on Pope Francis' "Joy of the Gospel," said Alejandro Aguilera-Titus, national coordinator for the V Encuentro.
"The V Encuentro is an implementation of that vision of Church that is missionary, that is an example and promoter of justice, that reaches out to those who are most in need, that builds community and understanding," Aguilera-Titus said.
WHAT: Diocesan V Encuentro
WHEN: Saturday, Nov. 18, 9 a.m.
WHERE: Saint John the Baptist Catholic Church, 300 East 11800 South, Draper*
*Please note the change in location.