Victory Noll sisters announce 2018 jubilarians
Friday, Jun. 08, 2018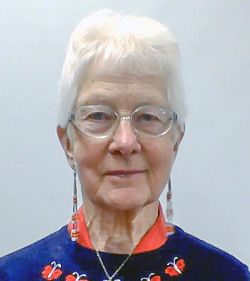 Courtesy photo
Photo 1 of 3
HUNTINGTON, INDIANA — Eight members of Our Lady of Victory Missionary Sisters are celebrating jubilees in 2018. Among them are Sister Joan Arnold, Sister Mary Joan Ginsterblum, and Sister Paula Wellnitz, who all ministered in Utah.
Sister Joan Arnold is celebrating 70 years with OLVM, having joined on Oct. 27, 1948. The native of Lebanon, Penn., has been missioned in Texas, Indiana, Michigan, California, Ohio, Wisconsin, Utah, New Mexico, Illinois and West Virginia. She has been a catechist and served on the leadership team. She spent nine years as the general treasurer. She served on the Resource Sharing Board, and has spent many years as the peace and justice coordinator for OLVM.
A native of Prairie du Chien, Wisc., Sr. Mary Joan celebrates 80 years as a Victory Noll Sister. She joined OLVM on Jan. 25, 1939. Her ministry work has taken her to California, Colorado, Utah, Oregon, Arizona, Florida and Indiana. She has served as a catechist, a physical therapist and worked in hair care. She also worked as the caretaker of the natural areas on the Victory Noll campus and she carved the wooden peace pole that now stands in the Miami Memorial Peace Garden. In addition, she has carved several smaller items such as birds that she has given away to friends, family and visitors.
Sr. Paula Wellnitz is celebrating her 70th jubilee, joining OLVM on Oct. 27, 1948. A native of Elgin, Ill., Sr. Paula has been missioned in California, Colorado, Tennessee, Washington, South Dakota and Utah. She has been a catechist and a mental health counselor. She worked in family enrichment, social work, pastoral work and with Catholic Charities.
"It was God's choice, not mine, to become a Sister. Although, as I lived it and could participate in the life and work of the OLVM Sisters, it was the sort of group I think fits me," Sr. Paula said.
Our Lady of Victory Missionary Sisters is a religious community of women dedicated to those living in poverty or oppression in the name of Christ. Founded in 1922 by Father John Joseph Sigstein, the members of the Victory Noll community minister to those in need.